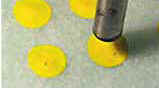 For the black center dot take a drill bit about half the size of the one used for the yellow dot . Touch the black paint with the butt, center the bit over one of the yellow dot, apply without touching, see photo on the right

Apply black dots on all the yellow ones you made, for the small size dots use a 1mm (1/25") bit or the head of a pin.

Let them dry for 20mn, apply a thin varnish on each of the eyes . Let dry for severals hours , they'll harden and you can, with a pin, remove them from the paper.